Savarkar was born in the year 1883.
Arrested and sent to the Andaman jail in the year 1910 (age 27)

Year of his release – 1924 (age 41)

He died in the year 1966 (age 83)

Let's set aside the debate on whether the reason for his imprisonment was Indian liberation or Hindu religious liberation.

He was imprisoned in the Andaman prison for a period of 11 years.
He submitted five mercy petitions in 1911, 1913, 1914, 1918 and 1920.
In his petition written on November 14th, 1913 he had stated that If the government in their beneficence and mercy release him, He would act as the staunchest advocate of constitutional progress and loyalty to the English government. He promised that he would bring back all those misled young men in India and abroad who once looked up to him as their guide. Further promised to serve the Government in any capacity they like.
After making several appeals of apology and pleading, he was transferred from Andaman to Ratnagiri jail, Maharashtra in the year 1921.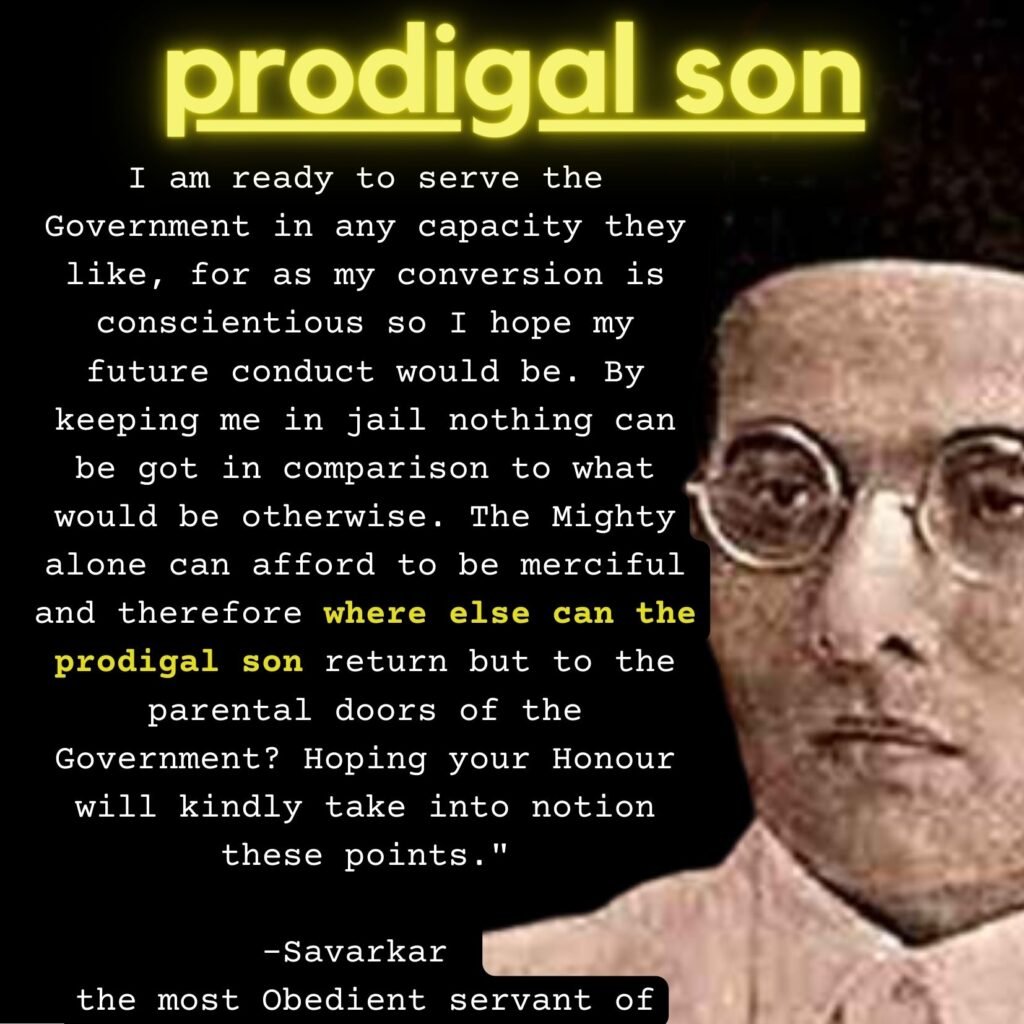 He enjoyed hospitality in Ratnagiri as he was treated as a state guest. In 1924, Savarkar was finally released freed and with the same sprit he began his life in his hometown.


Thereafter his journey continued in the path of Hindu Mahasabha & R.S.S. Both these movements did not work towards the freedom of India. These two movements have the pride of imposing Hinduism in everyone's mind and causing religious riots.

Moreover they played an important role in the assassination of Father of the Nation, Gandhi.

Nathuram Godse's Hindu Mahasabha & Savarkar's RSS both planned the assassination of Gandhi. Many rehearsals were held, though one or two failed but finally it was carried out successfully.

Savarkar was one among those the assassins who were arrested with Godse for the assassination of the father of the nation.

It is to be noted that both Hindu Mahasabha and RSS were banned before India celebrated its first year of independence!

The subsequent release of Savarkar, the lifting of the ban on Hindu extremist movements, were nothing but the result of the Indian democratic system & by no means because they were not guilty or virtuous!

The Kapur Commission, set up to investigate Gandhi's assassination, found that Hindu extremist movements were responsible for the assassination of the father of the nation, and Savarkar played an equal role in it!

We have read such things a thousand times.

In the Tamil movie "Indian" , for raping the wife of a British & burning the post box installed by a British, a character claims the martyr's title of a freedom fighter. Similarly sanghis are struggling hard to establish that Savarkar also contributed for the freedom of India.

My questions are;

1.) What was Savarkar's contribution to the liberation of India, between 1924 to 1947?

2.) During those twenty three years, what did he write for the freedom of India?

3.) How many meetings did he attended?

4.) How many field battles and processions did he participate in?

5.) In those 23 years was he arrested at least once by the British government?

6.) Did the British government give him any grant ? If any then Why?

7.) Didn't Savarkar have an ounce of regret to eat and buy clothes with the money of an Englishman or a Christian?

8.) Did Savarkar support or oppose the freedom struggle by Gandhi, Nehru, Patel etc.?

9.) Did he at least support Subhash Chandra Bose, who said that the crusade is futile, only weapons will speak? Did he send an army for him? Or did he provide any monetary support?

10.) He was alive for almost twenty years after the independence of India. What did he do after that for the country? Did he support or oppose Nehru's government? Any struggles, any contributions?

For instance, until 1973, the year till when he was alive, Periyar was writing and speaking as a leftist. During Nehru's tenure and after his death, protests against the imposition of Hindi took place very fiercely here. Did Savarkar do something of that sort?

What else did he do then?

The Sanghis claim that he has written some books and that they were banned for life because the English were afraid that they would push the youth into terrorism, and that was his great contribution towards the war of liberation!

Savarkar has written books called Hindutva & about the Sepoy Mutiny of 1857.

Both are based on Hinduism.

The reason why the Sepoy Mutiny was easily defeated was that, it was not emotion based but was religion based, arms based and thus was easily & cruelly defeated. History has it that it took 50 years for another such fierce struggle to happen after that!

How did the book on Hindutva help for the liberation of India?

Sanghis are trying to manipulate history by saying that a Sanghi, who fought for liberation of the Hindus (the Brahmins), was fighting for the freedom of India.

If they succeed in this attempt, Savarkar will replace Gandhi in the banknotes, offices and courts it seems and that their target.

can we let this happen?

Keep questioning!

They will claim that he flew on a bird.

Let's write and keep writing until we erase such muck forever!!!

Tamil Writer : Raja Rajendran
Translated by We Dravidian's Team